Clay Shoot Fundraiser Surpasses $80,000 Since 2020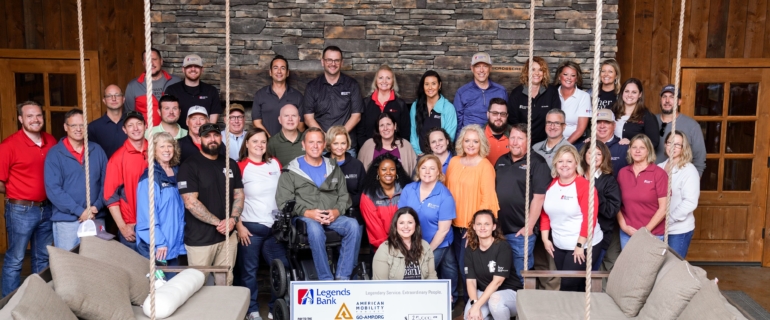 For the 4th year in a row, Legends Bank hosted its annual Game Changer Charity Clay Shoot
held on October 27th at Cross Creek Clays in Palmyra, TN. Since starting in 2020, this event
has raised over $80,000 for charities such as Habitat for Humanity, Charcot-Marie-Tooth
Association (CMTA), and Clarksville Association Down Syndrome (CADS). This year's
beneficiary is the American Mobility Project.
When asked about the non-profit selection process, Britney Campbell, Senior VP Marketing
and Public Relations said, "Our Legends Bank employees play a key role in choosing a
beneficiary each year. They are actively engaged in various community initiatives, serving on a
number of non-profit boards and committees, so we are interested in knowing what local
organizations they are passionate about and find ways to give back. Their nominations help our
management team make the final selection and American Mobility Project was the standout
organization this year. We couldn't be prouder to see the funds we raise from this event go
toward improving the lives of people in our community."
About AMP
The American Mobility Project was founded in 2019 by Mari & Gary Linfoot and Bob Hyde. The
foundation's purpose is to provide mobility and adaptive equipment and resources to those
living with disabilities. Mari Linfoot said "American Mobility Project is grateful for the Legends
Bank clay shoot fundraiser! Not only was it a fun event, Legends Bank and the donors
generously supported AMP's mission. Fundraisers by corporate partners, like Legends Bank,
allows AMP to impact people in our community living with disabilities by providing advanced
adaptive and mobility equipment. This enables people to be more active in the workforce, on
campuses, with their families and all they desire to do." Find out more about this great cause on their website.
Legends Bank President & CEO, Tommy Bates said, "My family was fortunate to be Gary and
Mari Linfoot's next-door neighbors for several years. Prior to founding the American Mobility
Project, Gary had a distinguished career as a pilot with the 160th aviation group and Ft.
Campbell, and Mari was a successful real estate agent and community leader. After Gary's
helicopter crash left him unable to walk, the Linfoot's started AMP to help individuals improve
their quality of life through mobility devices. Their hard work and generosity have improved the
lives of many wheelchair-bound individuals in our community."
Each year the number of teams and sponsors of this annual Game Changer Clay Shoot
continues to grow, which is a testament to key individuals and supportive businesses in the
greater Clarksville area.
Source Clarksville Online.