Her Bank Creates a Butterfly Effect and Celebrates One Year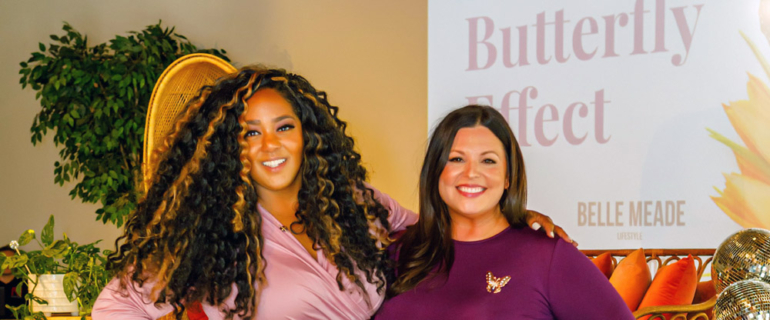 Her Bank is a brand inspired by women for women to create the perfect blend of personalized banking with a modern touch. A brand of Legends Bank, Her Bank recently celebrated their one year anniversary with a very special celebration.  
The beginnings
In 2020, Her Bank was conceptualized during the peak of the pandemic. This time of limited in-person interaction increased the demand for digital experiences with elevated levels of customer care.
Legends SVP of Marketing and Public Relations, Britney Campbell, witnessed this play out in real-time. She also noticed a significant number of women forced to pivot in the midst of losing jobs and running their business to continue paying bills and supporting their families both at work and at home.
"I saw an opportunity to provide a solution for women through my experience at Legends," said Britney. "The women who helped build this brand from the ground up have years of banking and life experience and a passion for nurturing customer relationships."
"We also leaned on a trusted circle of other female entrepreneurs and leaders who helped us understand the kind of banking experience they wanted. I'm forever grateful to Amelia, Kasey, and Sabrina, as well as our bank's board and management team for supporting this idea and allowing us to see it through."
"Her Bank is more than just a banking experience for women, it's a lifestyle brand to support women beyond their financial needs," said Kasey Hempel, SVP/Treasury Management, Digital Solutions and Co-Creator of Her Bank. "Banking is an essential component of a woman's overall financial picture, but it's only a small portion of what they are actually looking for."
She continued, "they are looking for access and personalization with compassion and expertise. They need access to resources, education, and connections, and to be treated with care by experienced professionals."
The butterfly effect
To celebrate the one-year milestone for the brand, the team planned an inspirational event with a very special theme. Britney was featured in the May 2022 issue of Belle Meade Lifestyle Magazine as one of the Women Making Moves in Nashville, which sparked the concept for the event.
"I have to find that meaningful connection to create something beyond the obvious that weaves purpose and intention through a celebratory event," said Campbell. "Events like this should be unique, on brand, inspiring, and make an impact."
"When reflecting on the past year, I thought about what it took to get here. Then I thought about what it meant for the women we were serving and hoped to serve in the future," she continued. "I immediately envisioned the 'butterfly effect.' I did the Google search to begin the creative planning process. This statement connected the brand's purpose to the event's theme."
"The butterfly effect teaches us is that small things matter, and we are all connected to a bigger system," she stated. "Our action today would've been the result of a previous action and this could in turn, lead to a future action. With one small gesture, you can change somebody's life."
The celebration
The one year celebration was held at Saint Elle, a women-owned event venue in Nashville, in partnership with Belle Meade and Brentwood Lifestyle Magazines. The sold-out event hosted over 130 people. It included a program of speakers and highlighted a local organization that supported women in the Nashville area.
Along with Britney, the highlighted speakers were featured in the magazines' Women's Issue:
Nikki-Dee Ray, meteorologist for News Channel 5 was the night's emcee.
As part of the event, each guest received a custom handmade butterfly necklace from a Nashville-based women's organization, Resera. This necklace commemorates the brand's one year anniversary. In addition, it represents the women who are in constant transformation of becoming the best versions of themselves. It also serves as a reminder we can all create our own butterfly effect.
The impact
The literal butterfly effect from this event was the amount of money raised to help the women of the Resera program. Through the guests' generosity, they contributed $17,800. This money supports wages and resources for those currently experiencing homelessness and domestic abuse. The program offers housing, a job, financial education, community, and other essentials for a better quality of life.
"The event was incredibly touching and impactful! While we want to always celebrate the Her Bank brand and what it represents, we want to stay true to our mission of honoring and lifting up other women. I think we accomplished that in many ways with this event," said Sabrina Joiner, SVP/Operation and Co-Creator of Her Bank.
The future
Since the one-year celebration, the Her Bank team has been actively engaged in the community. They have been building banking and strategic relationships to support the brand's continued growth. Between podcast guest appearances and speaking opportunities, the brand is gaining local and nationwide recognition. They are viewed as an industry example for best practices in niche banking concepts.
"I'm excited about where we're going", said Amelia Magette, SVP/Commercial Lender and Co-Creator of Her Bank. "We've learned so much over the past 2 years from the feedback we've received from our customers and supporters. This helps the brand evolve with intention and purpose."
"Our 2023 focus is utilizing strategic partners to provide more resources and education for women across the bank's footprint," she continued. "We know education and access to resources strengthens this 'ecosystem' of women supporting women. This improves confidence when having conversations and making decisions around money."
Visit her-bank.com or follow Her-Bank on Facebook, Instagram, LinkedIn, and Twitter.
---
Legends Bank is a community bank established in 1998 in Clarksville, Montgomery County. The bank has nine branch locations in four counties in Tennessee including Davidson, Williamson, and Cheatham Counties.