Legends Bank Brentwood Branch Moving to New Location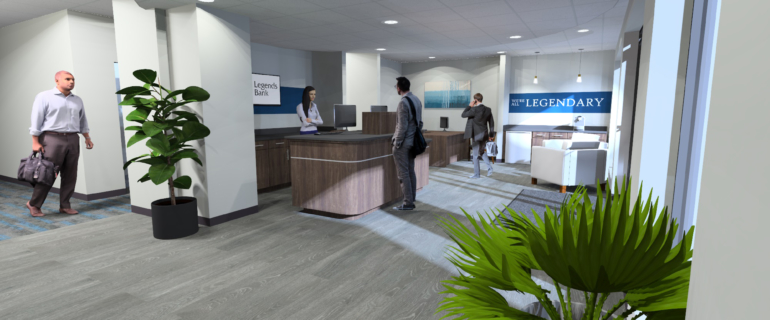 With a new year comes a new location for Legends Bank's Brentwood office. The branch, located in the East Park building at 2 Maryland Farms, Suite 110, opened for business on Tuesday, January 22nd and provides 3,600 square feet of office space, which is nearly double of the previous location on Franklin Way.
"Since acquiring the original building in 2010, the increased traffic at the corner of Franklin and Maryland Farms Way made accessing our branch challenging and we had limited parking.  This new space is more accessible, has more customer parking, and plenty of office space to accommodate our needs now and in the future as we grow." According to Rick Archer, Market President,
"This is an exciting time for Legends Bank," said Britney Campbell, SVP of Marketing and Public Relations. "As we celebrate 20 years in banking, we are opening new doors and refreshing branch spaces to provide an elevated banking experience to our customers. Legends has been in Brentwood since 2010 and has grown along with the community, facilitating our need to acquire additional space and parking.  Although we have moved the existing branch, we are improving accessibility and convenience for our customers, which is important to us."
Tommy Bates, President & CEO said, "Brentwood is a thriving community in Williamson County and one of Middle Tennessee's most desirable locations to live and work.  We are proud to be a part of the growth and progress, and look forward to serving the needs of local residents and business owners. We're committed to legendary service by extraordinary people and we appreciate the Brentwood community entrusting Legends Bank with your banking needs."
The new location will be open Monday – Thursday, 8:30am to 4:00pm and Friday from 8:30am to 5:00pm. Call (615) 372-1750 or fax (615) 372-1751.
Legends Bank is a wholly owned subsidiary of Legends Financial Holding, Inc., operating eight branch banking locations in Clarksville, Brentwood, and Nashville, TN. More information about Legends Bank can be found at legendsbank.com.