Legends Bank Employees Help Build Home in Cheatham County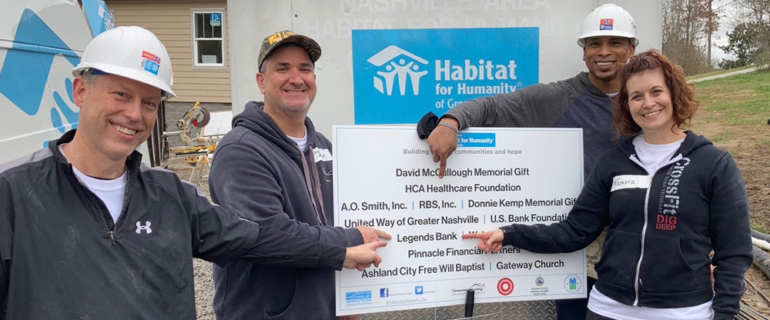 Legends Bank employees recently volunteered with Habitat for Humanity in Cheatham County to help build a new home in Ashland City.
Habitat for Humanity in Cheatham County started building the future home for Linda and her family on Saturday, February 27. Linda is currently taking homeownership classes to learn how to budget for a mortgage and how to be a successful homeowner. Her children are very excited to help her build her new home with sponsors and volunteers. Linda says, "The best is yet to come." To her sponsors, she expresses gratitude and says she is so excited about "all of it. I have worked two jobs to pay my high rent. I am so excited to be able to take it easy in my new Habitat home."
John Morrow, VP/Business Banking (Pleasant View), was one of the bank's volunteers for the build and said, "Partnering with our local Habitat is a special opportunity for employees to get together and work as a team for a common goal to help a local family and the community. Being a part of the build process gives you a better appreciation for the work it takes to provide the place they will call home and also strengthens relationships between employees."
Follow Habitat for Humanity of Greater Nashville on Facebook.
Habitat for Humanity of Greater Nashville has become a model of shared services for other Habitat affiliates with expanded outreach in four counties — Davidson, Wilson, Dickson, and Cheatham. Through the sharing of administrative policies, practices, and services, administrative costs are shared, freeing up resources, which allows more families to become empowered and self-sufficient through homeownership. Habitat of Greater Nashville operates ReStores in Davidson, Wilson, and Dickson counties. Contact them today to learn how you can help.
Pictured below, are Steve Kemmer, John Morrow, Tamera Batiste and her husband, (not pictured, Bob Jones).