Legends Bank Helps With Response Efforts Including Second Harvest Food Bank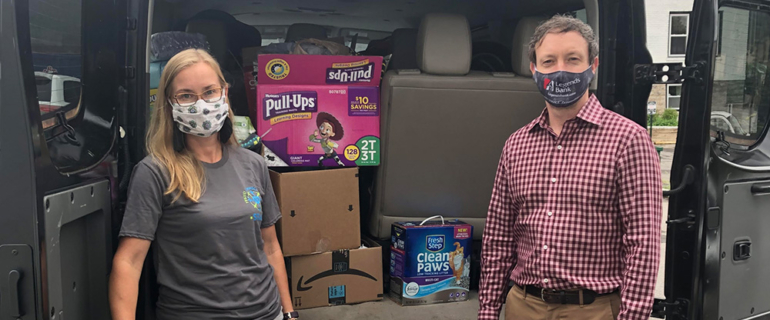 Legends Bank Helps With Response Efforts Including Second Harvest Food Bank
Middle Tennessee has had its share of disasters with the COVID-19 pandemic disrupting our daily lives following the devastating tornadoes in our area. Legends Bank continues to offer help to the community through donations to many local charities including Second Harvest Food Bank and Project Connect Nashville
Second Harvest Food Bank of Middle Tennessee works to feed hungry people and solve hunger issues in our community. Parents who have school-aged children who rely on school lunches and people who have lost their jobs have found it difficult to feed their families. 
At Second Harvest, 670,000 pounds of food is distributed each week along with 149,626 healthy meals and snacks provided through our Kids Cafe and At-Risk Afterschool meal programs. 
Second Harvest is using recommendations from credible health organizations:
They are using these recommendations to guide their work along with state and local governments.
According to Nancy Keil, CEO of Second Harvest, "It's going to take the collective work of this team and others to ensure our most vulnerable neighbors have access to food."
Project Connect Nashville
Project Connect Nashville helps disconnected and vulnerable men, women, and their families build relationships with others who will encourage and guide them, providing assistance when needed, educating and equipping them for the challenges each day brings and celebrating every victory along the way. 
Britney Campbell, Senior Vice President of Marketing & Public Relations for Legends Bank says, "Due to Covid-19 many residents of the Nashville area are still greatly impacted from the tornado damage over 4 months ago and still need assistance."
Legends Bank is also a major contributor to Manna Cafe and Loaves and Fishes which help with food security locally in Clarksville-Montgomery County.
You can donate directly to Second Harvest Food Bank by clicking here and donations to Project Connect Nashville can be made here.
If you're searching for a local bank that offers personal services, look no further than Legends Bank. We value each and every person who comes in and we protect your financial livelihood. Our services are just like the larger commercial banks, but we tailor them to you.
We're Legends Bank… professionals who know what you want and need most, and a homegrown, financial institution that's here to stay.