Legends Bank Participates in Financial Literacy Month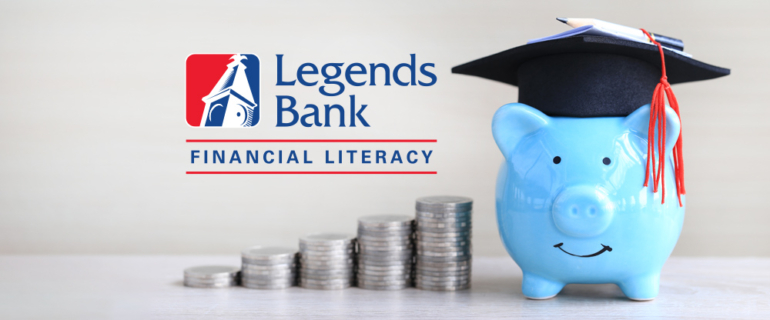 Legends Bank Participates in Financial Literacy Month
April was Financial Literacy Month, which raises awareness and promotes teaching healthy financial habits through financial education.
This year, Legends Bank participated in many ways through community partnerships and sharing helpful tips, resources, and information through the bank's social media channels and website.
"The recent pandemic has created some unique challenges for the school system and students with schools being closed the last part of the school year, so it was important to us to find ways to reach both students and adults to provide access to financial education resources," said Britney Campbell, Legends' SVP of Marketing and Public Relations.
Legends Partners with PENCIL
PENCIL is an organization linking community resources to Metro Nashville Public Schools, whose mission is to help young people achieve academic success and prepare for life.
Statistically, Metro Nashville schools face 48% of their students being from economically disadvantaged households, many of those without access to the internet, which can prevent those children from accessing some online educational resources available to others.
"Understanding and wanting to address these challenges, PENCIL reached out to several financial institutions in the area to help provide financial literacy kits to those students. Legends wanted to support these efforts in a couple of ways, which included helping cover some of the printing costs of the kits as well as access to their online educational resources through a third party partnership with EVERFI," said Campbell.
A note from Sandra Harris, Senior Partnership Manager (PENCIL)
"Thank you Legends Bank for sharing your electronic Financial Literacy documents! What a great resource for metro schools. With your donation, PENCIL will print and distribute 260 Financial Literacy packets from Legends Bank. We appreciate your support of metro schools and the work of PENCIL!"
Free Digital Financial Literacy Courses for K-12 Students
To help bank customers and employees who are balancing work, childcare, and taking on the mantle of teaching, Legends offered access to 20+ digital courses for students in grades K-12 on critical topics including financial education, mental wellness, compassion, digital wellness, prescription drug safety, and more. These resources are available for a limited time during this period of widespread school closures due to the pandemic.
EVERFI is a global education technology leader that provides financial literacy and education​to both students through schools across and adults through the bank's website.
Signing up for this content is easy! Here are the four steps you need to take:
Visit the EVERFI Family Portal
Select your state
Select your child's school name
Receive the full catalog of age-appropriate courses for your child
Together, we can support one another as we navigate this new landscape and strive towards achieving our mission.
You can also donate directly to PENCIL by clicking here.
If you're searching for a local bank that offers personal services, look no further than Legends Bank. We value each and every person who comes in and we protect your financial livelihood. Our services are just like the larger commercial banks, but we tailor them to you.
We're Legends Bank… professionals who know what you want and need most, and a homegrown, financial institution that's here to stay.