Key Leadership Roles to Align with Growth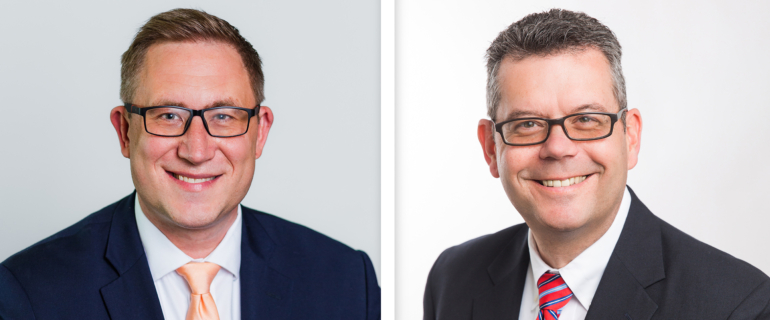 Legends Bank is thrilled to announce key leadership appointments as they welcome Jeremy Hoard as their new Executive Vice President and Chief Banking Officer while celebrating John Sloan's promotion to Senior Vice President/Nashville Area Commercial Lending Manager.
Tommy Bates, President and CEO, stated, "Jeremy's vast banking experience coupled with his deep-rooted community service aligns seamlessly with our values at Legends Bank. We are confident that his expertise and passion will pave the way for continued innovation and growth." He added, "John's intimate knowledge of the Nashville community and his dedication to our customers make his promotion a natural fit. We're excited about the future under their leadership."
About Jeremy Hoard:
Jeremy has over two decades of banking experience, which spans retail banking, sales, consumer and commercial banking, treasury management, merchant services, mortgage lending, and project management. In his new role as Chief Banking Officer, Jeremy is responsible for leading all customer facing, revenue generating business lines, including commercial lending, mortgage lending, retail banking, consumer lending, marketing, treasury management, and merchant services for the Bank.
Prior to coming to Clarksville, Jeremy was a Regional President for First Community Bank, a regional community bank headquartered in Virginia, where he led all commercial, retail, and treasury banking efforts in a multi-state area, including Southwest Virginia and North Carolina.
Jeremy has always been an active member of the community, serving as Treasurer of the Governor's One Shot, which is a non-profit entity whose mission is to feed families in need in West Virginia, as well as volunteering and fundraising for many other local organizations. He graduated Magna Cum Laude from Fairmont State University in 2004, where he earned a Bachelor of Science in both Marketing and Business Management. He is also a graduate of the West Virginia School of Banking and a 2014 graduate of Leadership West Virginia, which was named the program's "Best Class Ever." Jeremy also works as an instructor and fellow at the West Virginia School of Banking and the Virginia School of Bank Management.
Jeremy currently resides in Clarksville, TN, with his wife Amanda and three children, Emelia, Mason and Cecily. In his free time, Jeremy enjoys spending time with his family, being outdoors, playing basketball, and serving at his local church.
Jeremy remarked, "I couldn't be more honored and excited to join Legends Bank, an institution so dedicated to serving its community. As we look to the future, we will aim to further enrich the banking experience for our valued customers and growing our legendary team members, all while maintaining our focus on true community banking."
About John Sloan:
A true Nashville native, John Sloan possesses a rich 18-year journey in banking. Before stepping into the banking world, he owned a small business, gaining a first-hand understanding of local entrepreneurs' needs.
John is a graduate of Tennessee Tech University and lives in Nashville with his wife Michelle and son David, who is a current student at Tennessee Tech. John is a two-term past president and charter member of the Mt. Juliet Noon Rotary Club and two-term chairman of the board of directors of the Mt. Juliet Chamber of Commerce. He previously served as chairman of the parish council of St. Stephen Catholic Community in Mt. Juliet and currently serves on the board of directors of Urban Bicycle Food Ministry – Nashville. When he's not working, John enjoys cycling, running, and traveling.
Speaking about his promotion, John expressed, "Nashville is more than just a city to me – it's home. I am excited and eager to uphold Legends Bank's mission in serving our community and building lasting relationships."
Legends Bank takes pride in being a community bank and providing unmatched banking services with a personalized touch. The bank believes that these key leadership changes will greatly benefit its customers and extraordinary community.
About Legends Bank
Legends Bank is a wholly-owned subsidiary of Legends Financial Holdings, Inc., operating nine branch banking locations in Clarksville, Brentwood, Nashville, and Pleasant View, TN.
Source: ClarksvilleNow article.