Legends Bank Sponsors "Game Changer" Golf Tournament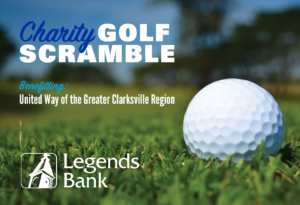 Legends Bank will host a golf tournament on September 22, 2017 benefiting United Way of the Greater Clarksville Region. The tournament is a four man scramble format, and will be held at Clarksville Country Club.
Registration and lunch will begin at 11am with a shotgun start at noon.  There will also be dinner and prizes immediately following play.  Tickets are are $100 per person, which includes box lunch, dinner, apparel and door prizes.
This year's theme will be "Game Changer" which supports United Way's 2017-2018 campaign.  According to United Way's CEO of Clarksville region, Ginna Holleman, "we are more than fundraisers, we are hand raisers and game changers."
Holleman continues "we raise our hands not only to lead the fight, but to reach out to people who need help and hope. Change cannot happen alone, so this year's campaign challenges our community members to raise their own hand and change the game for those in need."
Britney Campbell, Senior VP of Marketing and Public Relations for Legends Bank states "we are proud to be a part of this fundraising campaign for United Way." She goes on to say, "we are very excited about the new, fun format planned for this year's tournament, and we hope many golfers come out and join us for a great cause and great fun."
---
The deadline to register is Friday, September 15th.
Visit legendsbank.com/golf for more information.