Legends Bank is Proud to Support the Arts in our Community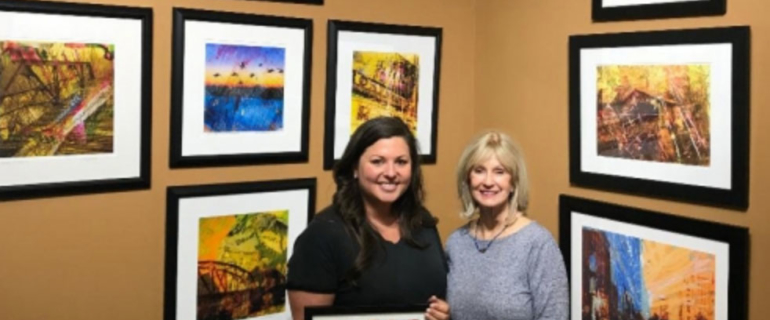 Here at Legends Bank, we love supporting our local artists!
The arts bring joy, help us express our values, and build bridges between cultures. The arts are also a fundamental component of a healthy community—strengthening them socially, educationally, and economically. Here at Legends Bank, we try to do our part to support the arts and our local Clarksville community by frequently sponsoring exhibits at Customs House Museum and also by showcasing the amazing works of many local artists at our bank offices around town.
For our 20 year anniversary in 2018, we commissioned local artist Beverly Parker to create a signature art piece, which is now proudly on display along with other pieces of her work in a small gallery at our Downtown Clarksville branch. The piece was also featured in an article on Visit Clarksville website.
Beverly Parker
Beverly earned a Master's degree from Vanderbilt University and has taught advanced darkroom and alternative photography processes at Austin Peay State University through the Community School of the Arts. Her work can be found at the Downtown Artists Cooperative Gallery on 96 Franklin Street in Downtown Clarksville, which she co-founded 20 years ago and has remained an active member. Beverly is well-known for her unique manipulated polaroid style, which allows different elements to be applied to create a story in each of her portraits.
Dan Hanley
Other local artists works can be found in our bank offices, such as Dan Hanley, who we commissioned for our 10-year anniversary. Dan is well-known in Clarksville and has had his work presented in many private and corporate collections. He serves on the Clarksville Public Arts Commission and works regularly in support of the Customs House Museum and Cultural Center.
Roxy Regional Theatre & Downtown Clarksville's Art Scene
Legends Bank also supports live theatre by sponsoring a number of shows each year presented at the Roxy Regional Theatre. In fact, The Roxy is a wonderful place to showcase all forms of local talent, not just on stage. The Peg Harvill Gallery in the lobby of the theatre is one of the many venues around Clarksville where art is prominently displayed. During Clarksville's First Thursday ArtWalk, you'll find many businesses in the downtown area displaying works by local artists. And don't forget the Mabel Larson Gallery at Austin Peay State University as well as the surrounding campus that includes such artwork as "The Sentinel" by Olen Bryant.
So, the next time you're in one of our offices or find yourself walking along Downtown Clarksville, look around and check out the works of some of Clarksville's leading artists.
We're Legends Bank … professionals who know what you want and need most. And a homegrown, financial institution that's here to stay.
Contact Us Phone (Regular Business Hours): 1-866-391-1925 Or email us at: customerservice@legendsbank.com.