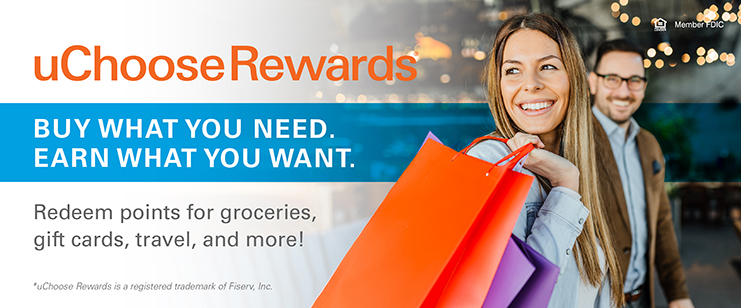 Buy what you need. Earn what you want.
When it comes to rewards programs, the toughest part should be choosing from lots of options. That's why "uChoose Rewards" gives you the flexibility to redeem points for travel, gas, groceries, gift cards at hundreds of merchants and more. These convenient features can be easily customized.
---
Want to learn more about uChoose Rewards?
Check-out the video below to watch our uChoose Rewards video.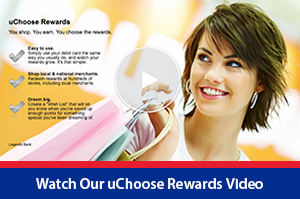 ---
Click here to Login or Register
---
A Quick Tour
Welcome to uChoose rewards. With uChoose Rewards, you'll find everything you need to turn your points into rewards quickly and easily. Once logged in, you'll see your home screen offering a quick at-a-glance view of your available points. Home also offers you a variety of categories for redeeming your points along with a few popular retailers you might be interested in shopping to help maximize the points you receive for each dollar. The main menu offers direct access to specific activities. Earn Points is where registered users shop hundreds of popular retailers offering special promotions exclusive to uChoose Rewards. Redeem Points is where you'll find your rewards whether you're looking to get away, get something special, or get a smile from someone else with a gift card. And My Rewards displays your recent rewards history. In the upper right, you'll find your alerts along with your profile information where you can manage the cards associated with your rewards, review your account information, and review past rewards. Finally, log out is where you end your session. We recommend logging out each time you visit our site. uChoose Rewards. Your rewards, your way.
Features
What if you were rewarded just for buying your groceries? With uChoose Rewards, it's that simple. Just make your usual purchases like groceries, gas, paying bills, and shopping online, and every time you make a signature-based purchase with your card you'll earn points. Then visit uchooserewards.com to track your points and redeem them for things like gift cards, travel, event tickets, the list goes on and on. And when you shop online at uChoose Rewards you'll also enjoy special offers and bonuses to help maximize your rewards. With our card and uChoose Rewards, shop, earn points, enjoy your rewards. Enroll now and use your debit cards like normal and watch the points pile up.
Registration
With uChoose Rewards, it's easy to earn rewards and getting started only takes a few minutes. The first time you visit uChooseRewards.com you'll be asked to complete a simple registration. Begin by entering the card number for your compatible uChoose card. Next, provide your full name as it appears on your card then enter your email address along with a username and password. Notice while entering your password check marks appear next to each of the requirements helping to assure your chosen password is secure. Next, confirm your password then select whether or not to receive special offers. When ready, register, review and accept the Terms and Conditions for the rewards program and submit. That's it! The welcome screen provides you with an overview of uChoose Rewards and Get Started opens the homepage where you can shop exclusive offers cash in your rewards, and review your rewards history.
Earn Points
Using your card to earn points is easy, whether you're shopping at local merchants or shopping online. Selecting Earn Points from the menu helps you maximize the points you earn by shopping popular merchants offering exclusive deals such as extra points awarded per dollar spent. Featured Offers are frequently shopped merchants that have been popular over time. Trending Offers displays offers based on their current popularity. Simply select an offer to view its details. If the offer is available online you can open the store's website right from here. Categories make it easy to search for offers by type such as offers that are only available online, in-stores, or seasonal offers like Black Friday. Selecting a category such as Auto & Tools displays stores offering bonus points in that category. Activate Offers display current offers that require activation. Just select the offers you're interested in then use your card to make the purchase and watch your points add up. Earn Points is a simple and easy way of helping to ensure you receive the most points for your money.
Redeem Points
uChoose Rewards lets you choose exactly the kind of reward you want for using your card. Redeem Points is where you'll find all the possibilities. You can redeem your points for travel, merchandise, gift cards, and activities such as spa treatments, amusement parks, and other one-of-a-kind adventures, and events like concerts, sporting events or theatre productions. Travel opens our trip planner in a new browser window where you can use your rewards to build a vacation including flight, hotel room, rental car, activities, even a romantic cruise. Then simply click the uChoose Rewards logo to return home. Merchandise opens our rewards catalog where you can shop for whatever it is you want spending only your points. Virtually anything you might be looking for can be found right here in our rewards catalog. Gift Cards let you share the fun of your rewards with others. The possibilities are nearly endless so start earning points simply by using our card then turn those points into rewards. With uChoose rewards, getting rewarded is easy.